From the inception of TherapeutAix, a key aim has been to bring decision-making information within reach of smaller organisations.  Frequently we have found the constraint to accessing this information to be both financial and a lack of critical mass within project teams.  We are now piloting a "crowd funded" solution whereby a consortium of companies comes together to share costs.
When reviewing projects, we often see gaps in the understanding of the competitor landscape, target product profile (TPP) for differentiation, clinical development plan (CDP) to deliver to this, assessment of probability of success and thereby project value.
TherapeutAix is partnering with an industry leader to offer a 1-day interactive workshop for companies interested in developing assets in IPF.  To protect individual IP, the workshop itself will be target- and asset-agnostic and conducted in an open innovation fashion.
Prior to the workshop TherapeutAix will work 1:1 with each participating company, under CDA, to identify key questions to be addressed and agree TPPs of interest.  From these individual inputs, we will create a briefing pack which will facilitate the planning of the workshop content.  During the workshop TherapeutAix will moderate discussion to ensure all individual objectives are met.  Following the meeting, each attending company will receive the generic open innovation output and a bespoke report from TherapeutAix which will focus on applying translational and operational strategies.
Generic elements of the output will include:
analysis of the future competitive landscape
market positioning aligned to potential TPPs
evidence package and CDP outlines and cost
market assumptions
NPV estimates
The bespoke report will include these themes summarised as a report tailored to each company's asset, highlighting asset-specific opportunities and challenges.
 How It Works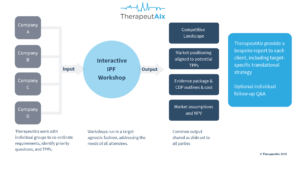 If you think this workshop could help you make the right decisions for your IPF-targeted asset, please get in touch with us – we would love to have you there!