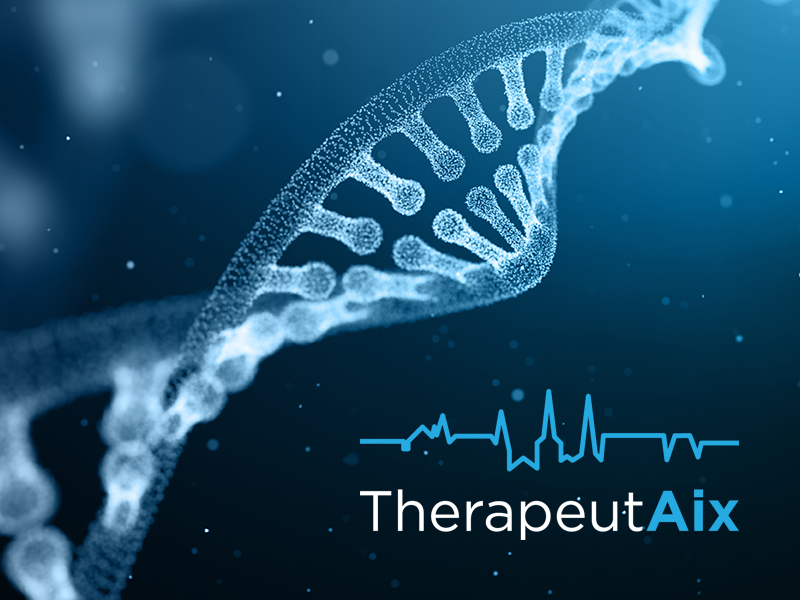 Four colleagues, who previously worked together in the Innovative Medicines Unit (IMU) at Grünenthal, have combined their strategic and operational R & D expertise to launch a new life sciences consultancy, TherapeutAix, based in Aachen, Germany.
Specialising in fibrotic disease, inflammation and orphan indications, but with a track record across multiple therapeutic areas, TherapeutAix combines hands-on experience with an integrated R&D network to help medicines reach patients.
The four company directors, Darcey Black, Simon Cruwys, Peter Hein and Bob Humphries, worked together for four years in the IMU. They combine over 100 years' experience in biotech, mid and large Pharma, academia and consultancy.
The firm works alongside investors and investor groups to support data-driven investment decisions on programs and assets and identify strategies to deliver early value. TherapeutAix also works with project teams and asset owners to maximise the attractiveness of their data package to potential investors or partners.
The company has an extensive R&D Network within the European Innovation community, and collective experience in projects in inflammation, immunology, pain, cardiovascular, and respiratory, covering both small molecules and biologics. Its global network partners include Nordic Bioscience, XenoGesis, Boyds and OracleBio.
Translational Director, Darcey Black, was recently Head of External Innovation at the lMU. He has over 30 years' experience in pre and early clinical drug discovery working in all aspects from target ID and validation, lead optimisation and translational studies in early clinical development across several therapeutic areas. Prior to this, Darcey worked for Merck in senior project and line management roles, and at Pfizer, UK and Glaxo (now GSK) in the UK and Switzerland.
Pharmacology Director, Simon Cruwys, is the former Head of the IMU. He led a team responsible for in-licensing molecules and delivering them to clinical proof of concept and has over 30 years' experience in academic and industry research. Prior to this, he worked for AstraZeneca where he was lead for both small molecule and antibody projects.
Clinical Development Director, Peter Hein, was External Innovation Lead with the IMU, concentrating on clinical strategies. Before this, he worked as a translational and clinical project leader and has over ten years' experience in academic basic research.
Project Strategy Director, Bob Humphries is a pharmacologist with over 30 years of pharma experience, including partnered early development projects and successful out-licensing. He led teams in discovery and early progression of the anti-thrombotics, Brilinta and Cangrelor. As VP of Inhaled Projects, AstraZeneca, he led strategic and delivery activities for in-house and partnered projects. Bob is also the co-founder of the inhalation consultancy, Adhale, a Director of VisionRealisation, Oncotherics and Platelet Solutions and scientific advisor to various companies and academic groups.
Commenting on the launch of TherapeutAix, Bob and Simon said:
"We are delighted to announce the launch of TherapeutAix. Our mission is to help investors and project teams across the globe focus on their next steps and progress the right assets through decision-making programs, with a line of sight to the next value inflection point and the clinic. Starting from the optimal strategic positioning of a program, we identify the best approach to create value from development programs.

"Although there are many biotech consultancies already in existence, TherapeutAix has special expertise in fibrosis and orphan indications – areas not yet optimally covered by these firms. However, based on TherapeutAix' translational and human tissue-based approaches and our strategic expertise, we're also able to cover a broad range of areas including inflammation and niche indications.

"Not only this, but we can advise asset owners in the due diligence stage, review projects, provide feedback and plan and coordinate wet work in labs using our extensive network.
With this network we bring expertise and understanding of the different transatlantic  regulatory and investment environments and we are able to coordinate activities to address both.
"We have identified ways to bring approaches and technologies usually only available to large pharma to smaller companies where we see great potential in advancing treatments for patients with extremely rare diseases."

"We have been delighted with response since we launched, with both former partners and new contacts recognising and signing up for our unique approach"