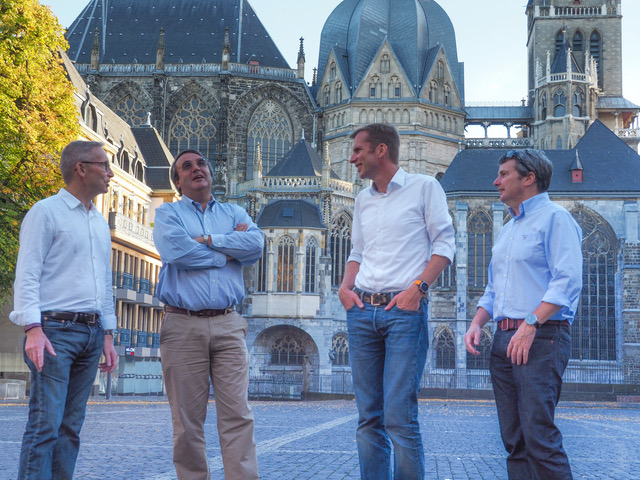 The 1st September 2019 officially marks the one year anniversary of the launch of TherapeutAix – and what an exciting year it's been! To celebrate the occasion, we've taken a look back at what the company has achieved so far.
Company launch
After months of preparation, we officially launched TherapeutAix on 1st September 2018 along with our fantastic new website. Our ambition to help bring molecules with promise to life is stronger than ever, and we continue to do this by working with our well-established R&D network and using our individual expertise in therapeutic areas.
The results so far…
Since the launch, TherapeutAix has moved from strength to strength, establishing ourselves as a company with a unique approach that can significantly increase the probability of our clients' success.
In our first year, we have interacted in a variety of ways with many different organisations.
We are particularly pleased to note that the majority (over 80%) of clients who have taken advantage of our initial, free of charge, review, have gone on to engage us for further activities.  Most of our clients (more than 70%) have gone on to involve us in further activities.
Our new website has allowed us to bolster our online presence significantly, and we have also increased our presence at local and national events.
Events
Over the last year, TherapeutAix has attended and participated in a number of events across the globe, including:
ERS International Congress, Paris
We attended this exciting event back in September 2018, where we presented posters with our network partner, Nordic BioScience, describing our recent activities in developing translational assays and biomarkers to profile potential novel therapeutics for fibrotic lung diseases, including IPF.
Drug Discovery 2018: Drug Discovery for Small & Large Molecules, London
 The 12th year of ELRIG's flagship conference, Drug Discovery 2018, was one of the largest meetings of life sciences industry professionals in the UK. TherapeutAix Directors Bob Humphries and Simon Cruwys presented a poster 'Advancing Assets in Drug Discovery and Early Development: Building a "Real World Ready" Platform of Evidence Using Networked R&D', which showcased a case study on progressing compounds in idiopathic pulmonary fibrosis.
18th Fraunhofer Seminar: Models of Lung Disease, Hannover
Held in Hannover, Germany, this high-profile two-day event brought together 120 academics and industry experts for discussions on predictive disease models and translational lung research. Translational Director of TherapeutAix, Darcey Black, gave a presentation titled 'Future therapy landscapes in IPF: Building a platform of evidence for strategic positioning' during the seminar.
EASL conference: International Liver Congress 2019, Vienna
The annual meeting in Vienna, Austria, brought together scientific and medical experts from across the globe to learn about the latest in liver research. This year, the question was posed: how might emerging clinical trends and real-world data shape the design and decision-making basis of preclinical and translational packages? While there, TherapeutAix caught up with our clients and contacts, and made a number of new connections with those in the field.
BOS Basel 2019, Switzerland
A real highlight of the last year was attending the Biotech Outsourcing Strategies (BOS) 2019 event in Basel, Switzerland. While there, the TherapeutAix team ran a session titled 'Bridging capability gaps in drug discovery in fibrotic disease: a workshop approach to identifying capability gaps and initiate collaborations to bridge these gaps.' Following the success at this event, workshops are now something we are hoping to be able to make an official offering.
NASH review paper published in Drug Discovery Today
 At the end of last year, TherapeutAix published an article titled 'The future R&D landscape in non-alcoholic steatohepatitis' in Drug Discovery Today. The review aims to give drug discovery teams guidance on navigating the maze of information currently available on NASH and to provide pointers on areas to consider in early research projects. Read more about it here.
Here's to year two!
 Equipped with the valuable experiences we've gained from our first year as a company, TherapeutAix now moves into our second year with the clear goal of continuing to evolve our extensive, global R&D network and ultimately help more medicines reach patients.
At the start of our second year you will find us at a variety of events including the ELRIG fibrosis meeting on the 18th September and the ERS International Congress 2019 in Madrid on the 28th September – 2nd October. To keep updated with the events we are attending, sign up to our mailing list. If you would like to arrange a meeting, please don't hesitate to get in touch with us.
We would like to say a big thank you to all our clients and contacts for your support in what has been an incredibly exciting year.