As TherapeutAix celebrates our three-year birthday this month, we thought it would be a great opportunity to take a look back at our achievements over the last year and share some of our top highlights, including events we've hosted and attended, projects we've worked on, and our latest publications.
Welcoming new partners
Following a fruitful collaboration, TherapeutAix was thrilled to kick off our third year by announcing the addition of Alderley Analytical and Peak Proteins, who joined us as network partners back in October last year. The bespoke and dedicated project team supported a TherapeutAix client in overcoming an unusual PK/PD challenge; our combined expertise meant that robust, decision-enabling data was rapidly generated, which ultimately allowed the client's project to progress.
We look forward to adding more exciting organisations to our extensive, ever-evolving global R&D network, and ultimately helping more medicines reach patients. Find out more about our network here.
Events
In August, we had the pleasure of hosting the "Collaboration and Outsourcing in Drug Discovery" Workshop at this year's Bio2Business BOS Virtual event. The workshop provided an excellent opportunity for us to explain the TherapeutAix Approach, using science-led collaboration with our network of R&D partners to offer bespoke solutions to challenges. You can access the full recording of the session here.
We also help organise, and chaired, a session, at the Society for Medicines Research (SMR) meeting on "Innovative early clinical trial designs and development strategies: evolution or revolution?" in May, This virtual meeting addressed these questions in areas such as oncology, analgesia and extra-cellular matrix diseases.  A full report was published in "Drugs of the Future" (Vol46, 587-590).
TherapeutAix also attended the online Extracellular Matrix Pharmacology Symposium, hosted by network partner Nordic Bioscience back in March. The insightful symposium focused on the world of extracellular matrix proteins and tissue turnover, and it was great to hear from top speakers in the field, including Professor Aleksandar Krag, Dr Jannie Sand and keynote speaker Dr Mina Bissell.
Projects  
We are also excited to see an increasing number of projects with locally targeted therapy. Mostly achieved via inhalation, this approach comes with unique benefits, such as reduced systemic side effects, but also presents challenges that need to be considered early in the development program, including a general hesitancy from the pharma and investor community. We've discussed all this and more in our four-part blog series on idiopathic pulmonary fibrosis (IPF):
Publications
As mentioned above, drug development in Idiopathic Pulmonary Fibrosis (IPF) remains challenging. The pharmacological properties of the two approved drugs, pirfenidone and nintedanib, need to be considered when selecting and developing new drug candidates. We discussed these challenges and opportunities in our review, which was published in Drug Discovery Today. Read more.
Metrics
Let's take a look back at our third year in numbers: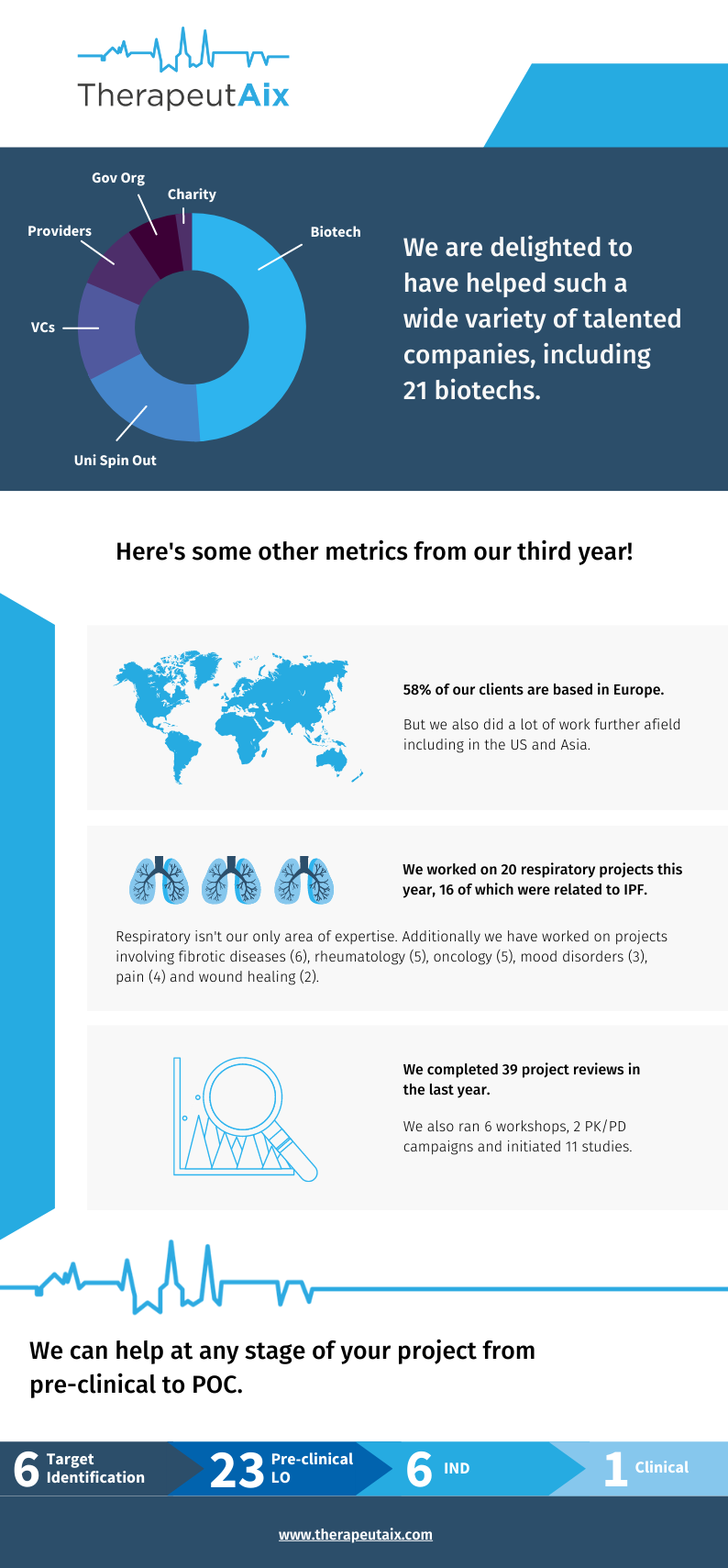 Looking ahead
What are our plans for the next year? Probably like many of you, we're hoping to return to in-person conference attendance to more intensively discuss science and network. We are considering organising, or co-organising, dedicated symposia focussing on drug research and development, biomarker, and translation – stay tuned for more news. Also, with COVID-related restrictions hopefully becoming less and less, we are hoping to continue organising bespoke interdisciplinary and focused workshops for some of our clients, as we have seen the huge positive impact this can have on projects. We will also continue to blog about exciting projects and concepts on our homepage. If you'd be up for a guest blog, this would be something we think would be exciting to do, please let us know.
And of course, we are looking forward to supporting our clients drive projects forward to help more medicines reach patients.
If you would like to arrange a meeting or find out more about how we can help with your projects, please don't hesitate to get in touch with us.
We'd like to finish by saying a huge thank you to all our clients and contacts for collaborations and discussions this year. Here's to year four!