R&D consulting with a difference
TherapeutAix is a life sciences consultancy company with a global client base.
TherapeutAix combines strategy and subject matter expertise with a fully integrated R&D network to deliver practical, cost and time efficient solutions for your project.
We are experts in pre-clinical, translational and clinical drug discovery with a strong background in the pharmaceutical industry.
Every project is unique. That is why we offer bespoke solutions, ranging from advice all the way to project management and operationalisation.
We offer an initial review of your project completely free of charge. This allows us to assess the project and see how we can work together.
Find out more about how we work.
Learn more about what we do, what areas we have expertise in, and how we work with you towards success.
What We Do 
At TherapeutAix we are a passionate group of scientists with a strong background of experience in the pharmaceutical industry.
Our goal is to ultimately help more medicines reach patients.
Where We Work
Collectively, the TherapeutAix team has a successful track record in the cardiovascular, inflammation, immunology, neuroscience, respiratory, pain, tissue repair and urology.
How We Work
We like to think of ourselves as part of your team, working towards a common goal together. We can assist your project as the people you need in the places where you need us, guiding you along the way.
The latest news and blogs from the TherapeutAix team. To see more, visit our news page here.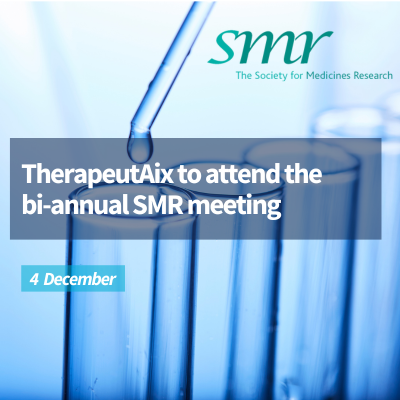 Darcey Black, Translational Science Director at TherapeutAix, will be attending the bi-annual SMR Meeting taking place at Friends House, London, on Monday 4th December. The