At TherapeutAix we are a passionate group of scientists with a strong background in the pharmaceutical industry, and our goal is to help more medicines reach patients.
We understand that every project is unique. That is why we offer bespoke solutions, ranging from advice all the way to project management and operationalisation.
The TherapeutAix Approach
We have a passion for doing the right thing with the right molecules. Our mission is to help investors and project teams focus on the next step, and progress the right assets through the right decision-making programs with a line of sight to the next value inflection point and, ultimately, the clinic.
The team at TherapeutAix work alongside you, together with or as an extension of your team, providing a science-led collaboration to identify challenges, plan solutions, and obtain supporting data.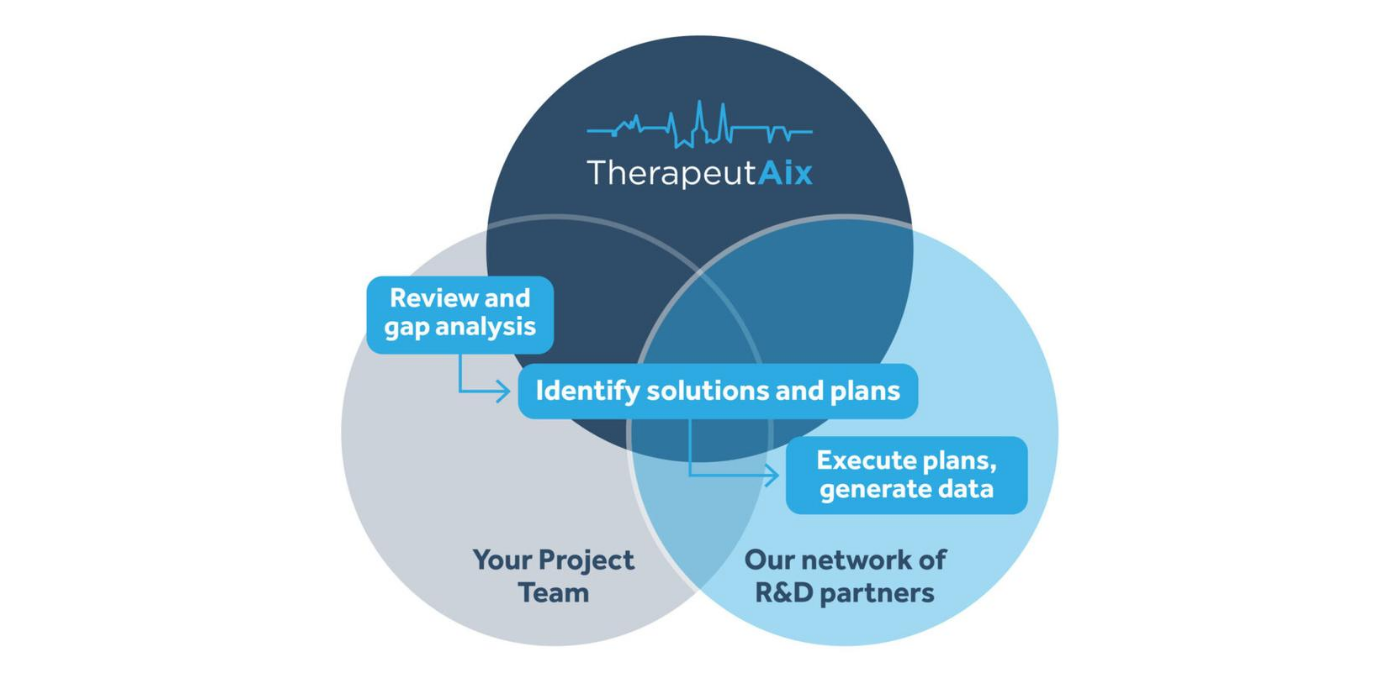 Our three-stage approach provides structure and is flexible to best serve individual projects.
Review:
We will complete a rapid assessment of your project data and plans at all stages from project start through to clinical proof-of-concept
Our initial feedback often identifies gaps and points to solutions, and is free of charge
Strategy:
Collaboratively, we propose strategic objectives and design future-proof platforms of evidence that will meet customer expectations. This involves identifying the best positioning for a developmental drug, and creation of a strategic plan.
Operations:
We can assist with the delivery of decision-making data via our R&D network or specific providers dependent on your needs. Utilising our network, we also provide study protocols and concrete plans to build a complete knowledge base. We can also provide project management to operationalise these studies.
We believe that the right strategy plus the right science leads to the right decisions.
It is all about Constructive Challenge
Our approach helps more good ideas succeed. We put ourselves inside the project. We capture and validate messages, challenge them, and build from there – our process is message-led, issue-driven, and decision-focused.
For an Investor, we help you make data-driven investment decisions on programs and assets with early confirmation of value.
For a CSO or Project Team, by building translational and transitional integrity, we help maximise the attractiveness of your data package to a potential investor or partner.
For a Tech Transfer Office, we can present your data to meet investors' or partners' expectations, and recommend experiments that increase project attractiveness and credibility.
We help bring molecules of promise to life in a way that you will not have experienced elsewhere.
We know not every path in drug discovery and development is a smooth straight line. In fact, it is usually quite the opposite, filled with twists and turns. That is why at TherapeutAix, we have a flexible, creative approach to help guide you along that path, whatever form it may take.