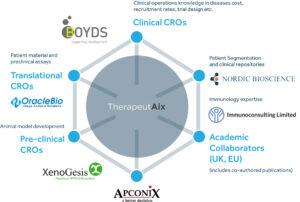 We are pleased to announce that we have grown our global R&D Network with the addition of ImmunoConsulting Ltd.
ImmunoConsulting, a consulting business that provides assistance to pharmaceutical and academic spin-out companies developing new therapeutic strategies which target components of the immune system across all therapy areas, is the latest company to join our extensive R&D network, which also includes Apconix, Boyds, XenoGesis, Nordic Bioscience and OracleBio.
Director of ImmunoConsulting, Dr Andrew Leishman, has 20 years experience in small and large molecule drug hunting, from target validation through to clinical development, and has managed research efforts on inflammation at PPL Therapeutics, AstraZeneca and Grunenthal, as well as oncology at MedImmune, Carrick Therapeutics and N4 Pharma.
Project Strategy Director, Bob Humphries said:
"We are delighted to welcome ImmunoConsulting to our R&D Network. With Andrew's expertise and experience, we will be well equipped to provide high quality analysis and support to clients with projects with an immunology focus, particularly in the immuno-oncology space. His insights and collaboration skills will also add value in other areas of TherapeutAix's offering, such as our workshop activities at both a strategy and asset level."
Dr Andrew Leishman added:
"I am really excited to be working with the team at TherapeutAix, which I know well from my previous roles, and using my immunology expertise to support clients and projects that have the potential to advance treatments for patients."
ImmunoConsulting will represent TherapeutAix at the next Society for Medicines Research (SMR) meeting: Immuno-oncology: the next generation of breakthrough therapies, held in Oxford on 21 June 2019.