This September, TherapeutAix is two years old. Here, we look back on the past 12 months, and take a sneak peek into the future.
Our Customers
Our core mission is to help bring molecules with promise to life – and we are helping more customers in planning and navigating their drug discovery and development projects. We are really encouraged that more than half of our new engagements are via introductions from established clients. Referrals are a huge compliment to us, as they indicate that our customers are happy and we are providing the best service. While fibrotic disease continues to be a major area of focus for us, the last year had us working across a wide range of therapeutic areas, with CNS, pain, respiratory, and dermatology to name but a few. Key activities for us have been strategic reviews of, and planning for, individual programs as well as client portfolios, followed by specific work to understand PK/PD and target validation. For a number of clients, we're also acting as project managers, building bespoke teams around individual projects.
In addition to consultancy, we continue to work with our network to conceptualise new preclinical assays and increase options for translation towards humans.
Workshops
Workshops have always been an important tool for us and our clients: to review projects, perform gap analyses, explore strategic options, and plan studies. In workshops that we specifically set up for individual projects, we bring cross-functional expertise plus regulatory and clinical experts from our network together with the sponsor's team. With this approach we can align activities with the optimal clinical positioning and facilitate real progress within a short period. We were delighted to learn that one of our workshop customers has recently completed a licensing deal with a large pharma company.
We have also developed a new workshop format, which is a crowd-funded approach to make 'big pharma'-like assessments and planning available to small biotech companies and similar organisations at an affordable cost. These workshops include, for example, indication-specific competitive and commercial analysis as well as costed and timed clinical development scenarios. We describe this approach in more detail here. Please get in touch if you are interested to learn more!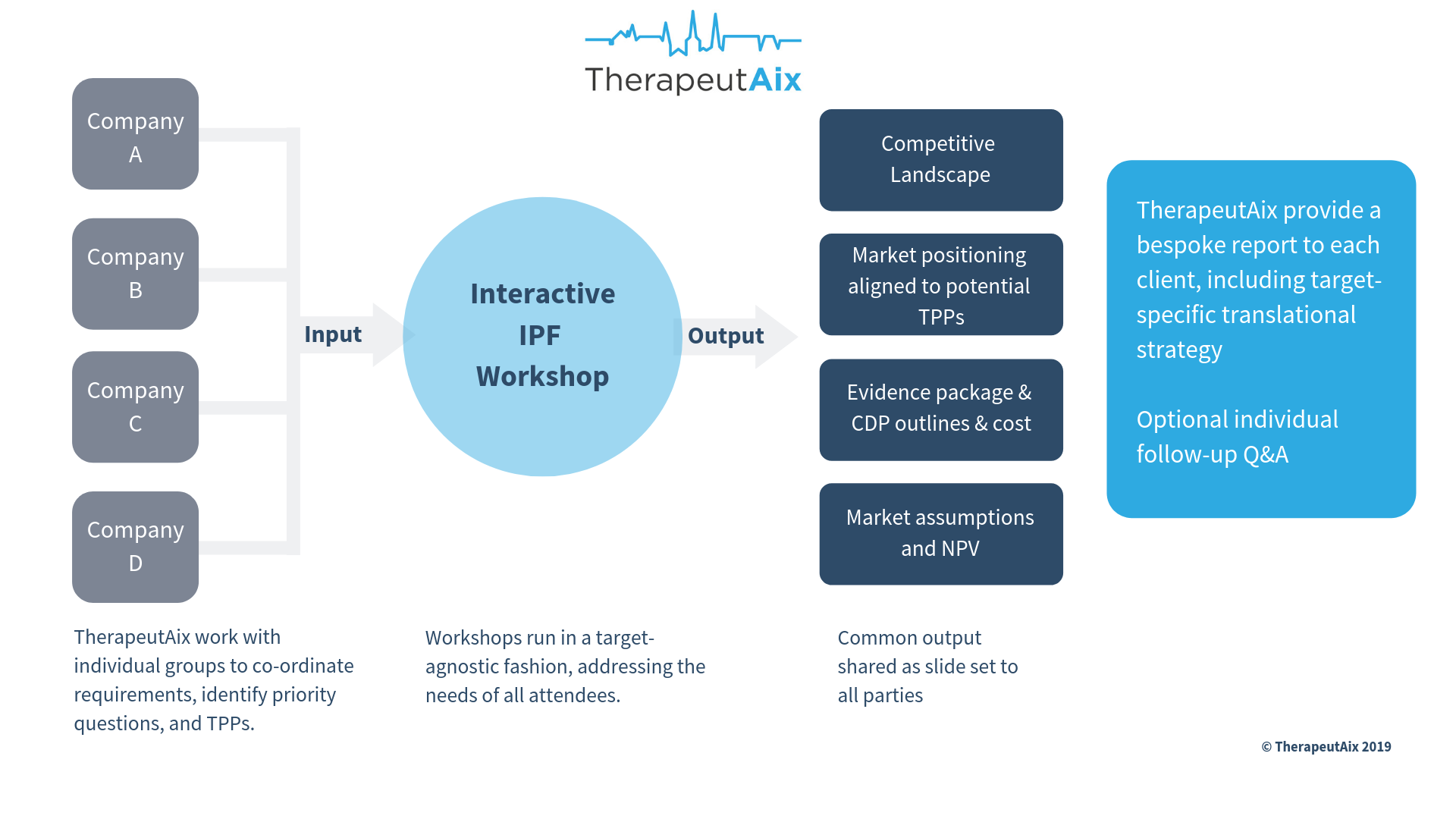 Events
Last autumn and winter we presented posters at the European Respiratory Society Meeting, as well as sponsoring and giving a keynote presentation at the 3rd Antifibrotic Drug Development Conference in Boston. We were also invited to present at the 19th Models of Lung Disease Seminar, hosted by the Fraunhofer Institute (ITEM) in Hannover, Germany. All of these events brought great discussions about novel science, translation of new ideas to the clinic, and inspiring interactions with other attendees.
COVID-19
Like everyone we have felt the effects of the novel coronavirus. Fortunately, our way of working has not been impacted much, as virtual work is one of our foundations. However, we are disappointed that most conferences have gone virtual in 2020, as this makes direct discussions and personal interactions much harder. That said, the virus and COVID-19 may result in novel insights into the pathology of fibrotic lung disease with options to identify new treatment approaches. We commented on this recently in our blog and would be happy to discuss this further.
Our Third Year
We hope you remember our review on NASH that was published last year? We are expecting to have another review published soon, and we will let you know more about it when it's available. We're also – virtually – attending the ERS, and other events towards the year's end. We will let you know about these and what we're up to on our blog, and always will be happy to (re-)connect with you directly. To keep up to date with our latest developments, you can subscribe to our mailing list here, or follow us on LinkedIn or Twitter.
Thanks for being part of TherapeutAix' exciting undertaking through the first two years. We're looking forward to new adventures, amazing science, and great projects in Year 3!