As the year draws to a close, we wanted to take a look back at our activities throughout 2022, reflecting on the return of in-person events, the advancements in medicine and the successes of our client projects. Here are our top highlights: 
Events
2022 saw a welcomed return to in-person events, and we had the pleasure of once more meeting face to face with clients, collaborators, and industry colleagues to discuss the latest advancements in drug discovery and development.
In June we attended and presented at the Extracellular Matrix Pharmacology Congress at the Tivoli Congress Centre in Copenhagen. Our Translational Director Darcey Black presented a poster and short talk titled 'ECM-derived Biomarkers in Drug Discovery: Are they ready to deliver?'.
The congress was hugely productive, and following the meeting, we produced a blog of reflections, where we discussed the key takeaways from the event, which you can read here.
In July, we co-organised and attended the SMR meeting titled 'Innovative New Pharma and Biotech Partnerships: How is the landscape transforming?', which looked at the evolving pharmaceutical landscape, and specifically how collaborations between companies are evolving. With our R&D network we can address several frequent and critical issues, especially for biotechs who want to optimize a data package that is of interest to larger pharma companies. Publication of a report from this meeting is planned in the coming months, and we'll be sure to let you know when it has been published.
The European Respiratory Society (ERS) meeting took place in September in Barcelona, and was a great occasion to review respiratory drug development, hear about recent clinical trial results, and discuss exciting new translational science in the poster sessions. We were delighted to be able to support one of our clients in presenting their data at the event. It was great to attend several talks highlighting the benefits of inhaled drugs for respiratory disease as this is an approach that we think can be extremely valuable. Read one of our case studies on how we were able to support a small biotech company with developing a device with the potential to enhance inhaled drug delivery to the lung.
We look forward to the new events that 2023 has in store! 
Workshops
Last year, we extended the TherapeutAix workshop format with a new offering, a crowd-funded solution with a consortium of companies. This complements our existing workshop solutions to address the specific needs of an individual client, ranging from data review to strategic discussions.
Throughout 2022 we were able to host a number of workshops with great success, helping our clients to identify asset-specific opportunities and challenges.
We recently wrote a blog about the benefits of the workshop format, and detail how you can get the best out of a workshop session with us. Read the blog here.
Awareness Days
As with any other year, the 2022 calendar was filled with multiple awareness days, helping to highlight certain conditions and pharmaceutical challenges.
In February, we were part of the discussion around Rare Disease Day – taking a dive into whether common diseases can help better our understanding of rare diseases (in 2021 we discussed the opposite). Read our Rare Disease Day blog here.
We also shared our thoughts on International NASH Day, with fibrotic diseases such as NASH being one of our areas of expertise. This year we focused on the challenges around drug development for NASH following numerous failed studies, and the ongoing work that is hoping to lead to the first approval of a NASH drug.
You can read our paper, published in Drug Discovery Today, titled 'The future R&D landscape in non-alcoholic steatohepatitis (NASH)' here.
Team reunited
After a long stretch of time where international travel was challenging, we were happy to meet in person more often.
At our Board Meeting in Aachen we discussed TherapeutAix' strategy, planned future activities, and worked through new ways to help biotechs with their drug discovery projects.
It was lovely to collaborate in the same room again, and we look forward to having sessions like this more often in the new year.
Partnerships
We are proud to have an extensive, global network of partners that help to support our clients. In August we came together with one of those partners, OracleBio, a provider of Quantitative Digital Pathology services, to provide our collective thoughts on the use and value of the pre-clinical bleomycin model in drug development for Idiopathic Pulmonary Fibrosis.
At TherapeutAix, we have extensive experience with many providers of the bleomycin model and its different versions, allowing us to not only recommend an optimal design but also the best provider. And with industry-leading image analysis expertise and processes, OracleBio is providing the highest quality evaluations.
Read our extensive joint blog here.
Our Metrics for 2022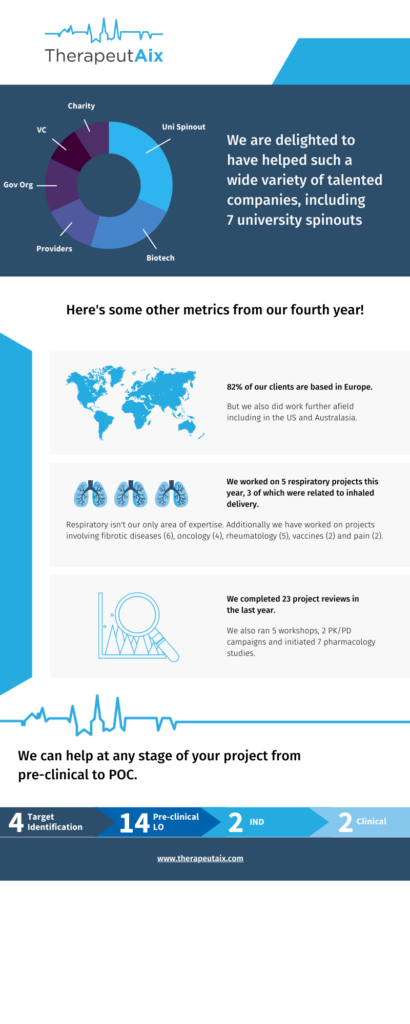 Looking ahead to 2023
 We are really excited about the new year and hope it will bring even more in-person events, and more advancements in drug discovery.
At our pre-Christmas Board and Strategy meeting, we had a horizon-scanning session to identify emerging trends and additional areas where we will be able to apply TherapeutAix' support models to the benefit of clients.
If you would like to arrange a meeting or find out more about how we can help with your projects, please don't hesitate to get in touch with us.
We'd like to finish by saying a huge thank you to all our dedicated clients and contacts for your continued support this year. Here's to year five!